... the performance that has been achieved is a lot higher: 11.3% at full sun!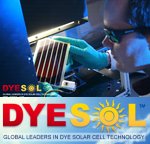 While this is still way less than the "normal" panel efficiencies achieved today, it is of particular interest as this technology doesn't rely on being installed as a panel.
"DSC technology is described by the company as "artificial photosynthesis" that uses an electrolyte, a layer of titania and ruthenium dye deposited on glass, metal or polymer substrates."
But it has even more advantages, about which you can read on
Energy Matters